Chatter & Natter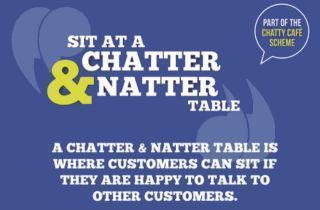 The Jungle are delighted to be part of the Chatty Café Scheme designed to get people talking more!
A Chatter & Natter table is where customers can sit if they are happy to talk to other customer. Anyone can join in! If you're on your own, in a couple, with a friend, if you're a carer why not sit there with why you care for, mums and babies, dads and babies, grandparents and babies, young people, older people and anyone in between!
There are now two dedicated Chatter & Natter Tables available Monday-Friday on the ground floor plus, on Monday's& Tuesdays for new parents, there are dedicated tables on the mezzanine during our Under 1's Sensory Play sessions – perfect way to meet new friends for you and your baby, share problems and get advice.
Just look for the Chatter & Natter tables in The Jungle and sit down! Order a drink, make new friends and have a good old-fashioned human interaction!